The most simple, useful budgeting app around.
OpenBudget helps you budget your money without the hard parts. Split your money into categories, track your spending and get control over your money with ease.
Download Now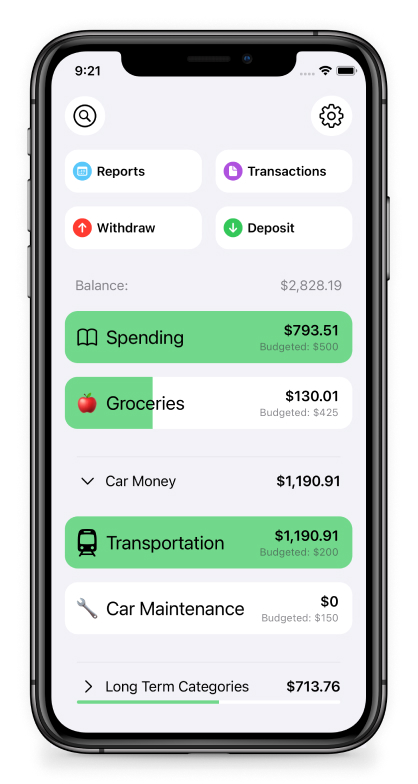 Spend on what you need
OpenBudget splits your money into categories so you know you'll have enough for what you need.

When you spend money, you'll take it out of a category. When the category is out of money, you stop spending.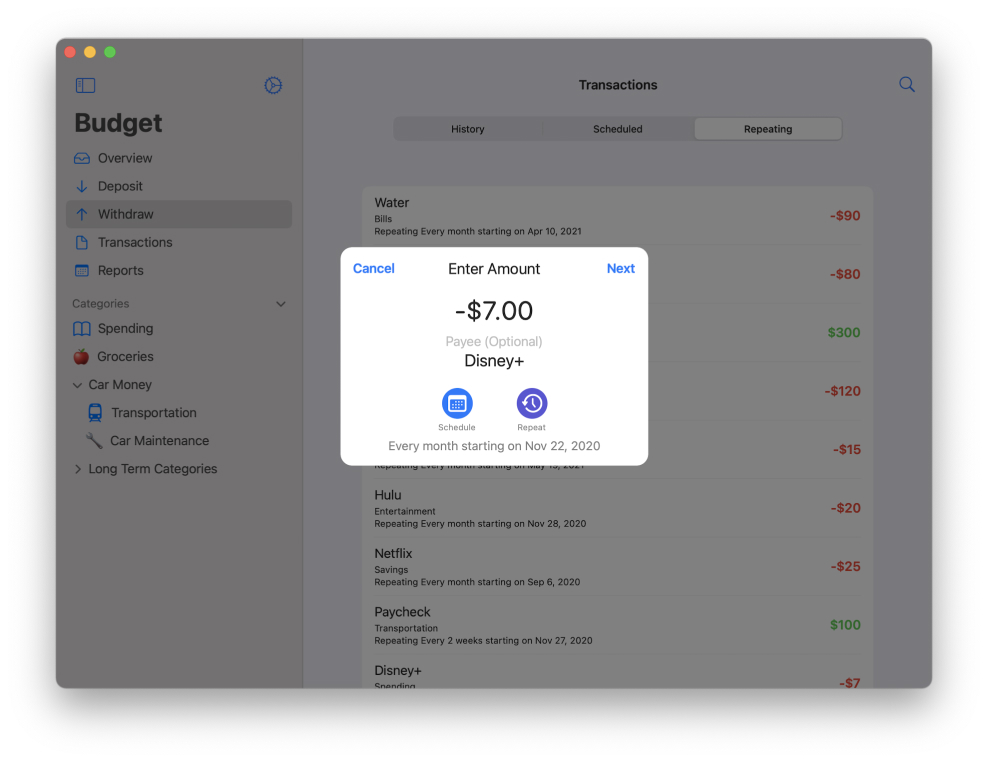 Track Your Spending
Don't let your money be a mystery. Find what you're spending the most on and track it easily using OpenBudget.

Recording transactions is fast and simple, without giving up any functionality.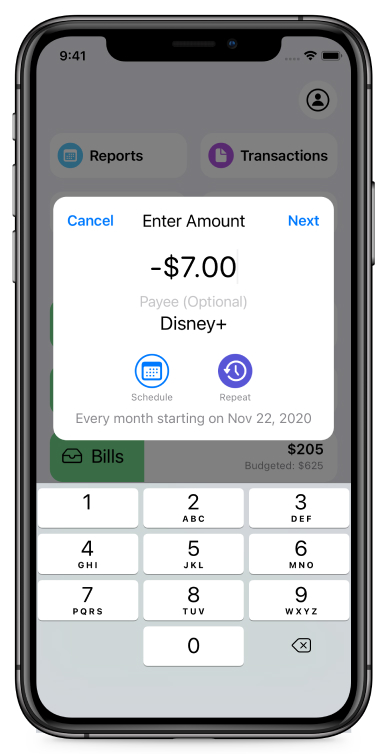 There's a few cool features too
Easily Track Spending
Adding transactions in OpenBudget is fast It's optimized for ease of use and speed and usually takes ~5 seconds to record a transaction.
Categorize your money
Money you make goes into categories like groceries, gas and movies. Each time you spend you'll take money out of categories. Stop spending once you've spent the money in the category.
Track Subscriptions
Set up a repeating transaction, and it'll automatically be added to your budget the next time it comes around.
Automagical Sync
Sync your budget automatically across all your devices. We currently support iPhone and iPad, but Macs are coming very soon!
Useful Reports
No need to use a spreadsheet. OpenBudget will do all the charting and fun math for you with useful and insightful reports and charts.
Private To The Core
No 3rd parties, no analytics tools spying on you, no malicious banks. Everything you do in OpenBudget is private.
And A Few More...
Simple UI, Unlimited Devices, Sign In With Apple, iOS 14 Widgets, Transaction Search, Automatic Transaction Split, Transactions With Multiple Categories, Any Currency, Dark Mode, Export To CSV, Pull to search, Group Categories, No Analytics
What Our Users Say
"I went ahead and ported our budgeting setup to OpenBudget, and everything just clicked. The app was flexible enough for me to set things up the way I prefer and powerful enough to automate the stuff I don't want to deal with. And the design was fresh, modern, and intuitive. It was perfect!"
"I've been using @OpenBudgetApp for a few months now and I've gotta say it's the most simple, intuitive budgeting app I've worked with. It was simple to set up and easy to use but has powerful features for my budgeting needs."
Works on all your devices
Automatically sync your budget across unlimited devices. Share a budget with a family member, help out a new budgeter, or just view your budget on two devices at once. It's up to you.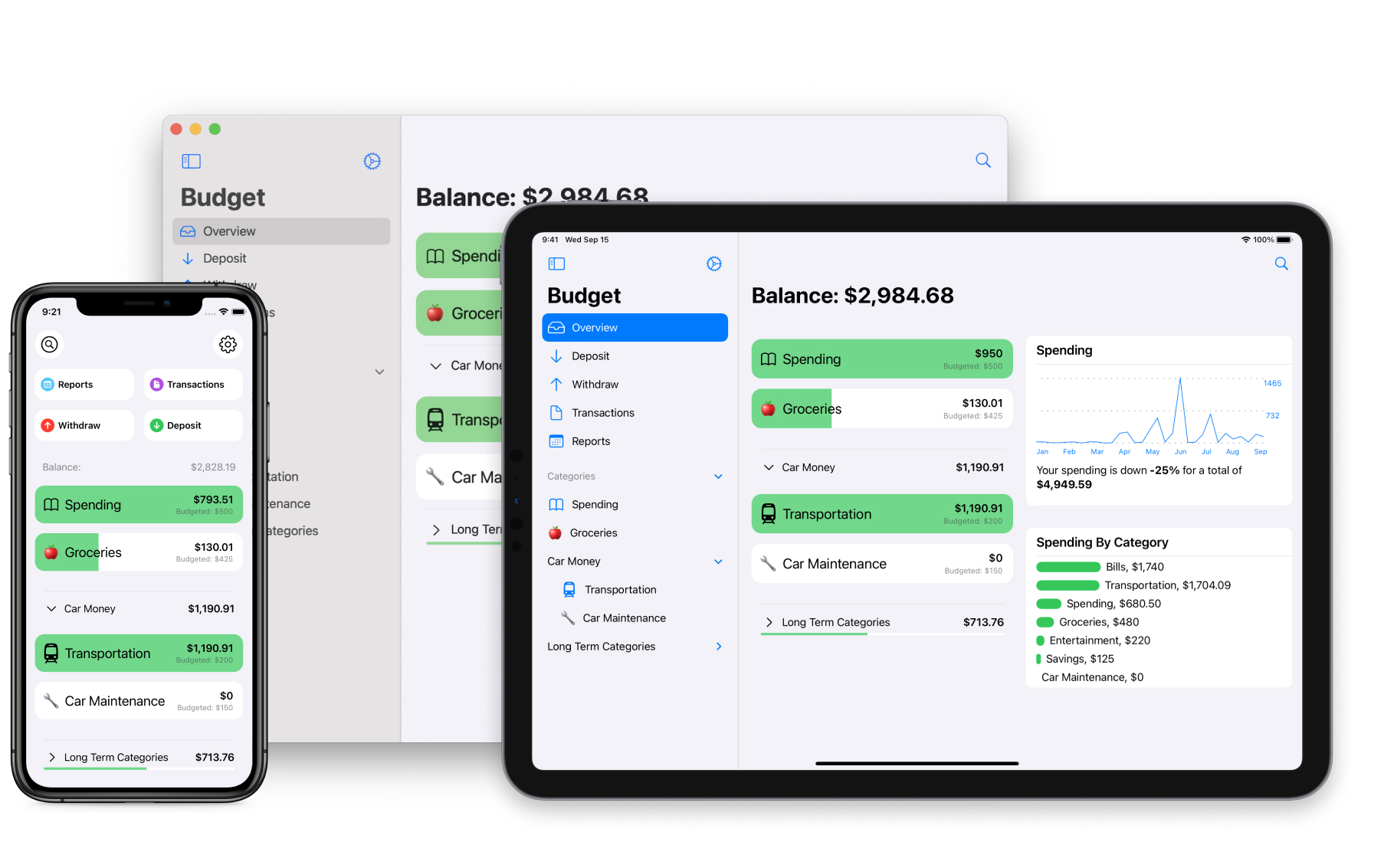 Download On the App Store
It only takes a second to get set up, so what are you waiting for?
(Plus it's free)
Download